Skip to Content
About the Inn
Part of Charleston's History
Forward-looking and with 300 years of rich, local history behind it, the meticulously restored Andrew Pinckney Inn celebrates its 25th anniversary this year. Redefining historic charm at the corner of Church and Pinckney Streets, the Inn embodies true Southern hospitality in an authentically Charleston experience.
1858
Originally constructed as a pair of three-and-a-half story tenements at the corners of Church and Pinckney Streets, the buildings' uses over the years changed along with Charleston itself. The Prohibition era saw a hidden-away speakeasy, while a Confederate artifacts museum and blacksmith's shop occupied the location at other points.
1996
New ownership of the buildings brought about a restoration of some of the buildings' most distinctive architectural features, from the glass-enclosed rooftop Solarium to the original hardwood floors and exposed brick walls. Once the Church Street Building and the Pinckney Building were returned to their original glory, the Inn opened its doors to guests in 1996.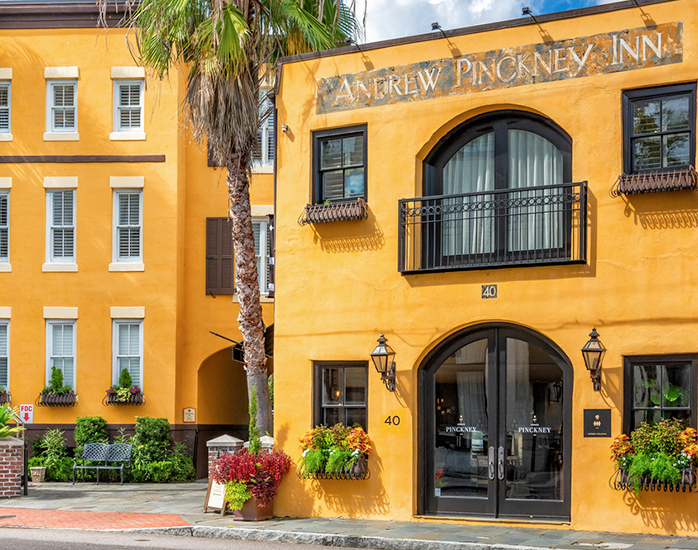 2022
Now in its 25th year, Andrew Pinckney Inn has long been part of Charleston's incredible history, and remains at the forefront of the city's travel destinations. Newly renovated and with the utmost in comfort and amenities, the Inn continues to redefine tradition and set new precedent for incredible stays, unmatched and personalized service, and memorable Charleston, South Carolina experiences.
Hotel Services & Amenities
Valet Parking ($22/night)
Daily Complimentary Expanded Continental Breakfast Served on our Exclusive Rooftop Solarium
Complimentary High-Speed Wi-Fi
Concierge Services
Afternoon Gourmet Coffee and Tea with Artisanal Cookies
Afternoon Wine and Cheese Reception in our Beautiful Rooftop Solarium
Umbrellas
Business Center
Complimentary Access to Pivotal Fitness
Historic Charleston Tour Pick-Up Location
Good Morning
Start your day overlooking Charleston's historic rooftops with a perfect cup of coffee, fresh-squeezed juices, and artisanal bakery items as part of complimentary breakfast in our charming rooftop Solarium. From there, the day is yours.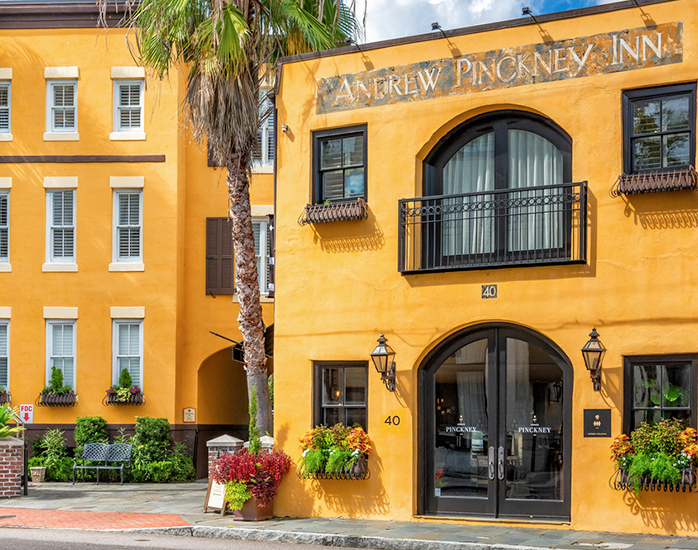 Good Afternoon
Browse the iconic King Street shopping district, just steps away from the Inn, or take in the sites, garden tours, and historic homes of the Holy City. Indulge in a leisurely lunch at one of the city's best eateries, or enjoy an outdoor picnic in Waterfront Park, taking in the views of the Charleston Harbor.
Good Evening
The Inn's Wine & Cheese reception is the perfect start to an evening in Charleston, with charcuterie and – of course – boiled peanuts, served in the Solarium. Mere minutes from the Inn, dozens of incredible restaurants await discovery, and no trip to Charleston is complete without a romantic horse-drawn carriage ride to end the night.